In order to prevent falls from aerial lifts, workers should adhere to the following safe work practices:
Do not exceed the rated capacity of the platform.
Upon accessing the aerial lift platform, ensure that the access gates or openings are closed.
Stand firmly on the floor of the platform.
Do not climb or over over guardrails or handrails.
Do not use planks, ladders, or other devices to gain additional reach.
Do not lean on or over the guardrails or handrails.
Do not sit, stand, or climb on guardrails.
Always enter and exit the platform when fully lowered.
Keep the platform clean and free of debris.
Wear a full-body harness connected to the platform's designated anchor point using a connector or lanyard.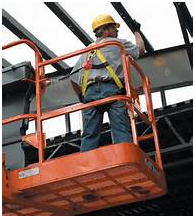 Source: Joe Mlynek is president of Progressive Safety Services LLC, Gates Mills, OH; joe.mlynek@progressivesafety.us; and content creation expert for Safety Made Simple, Inc., Olathe, KS; joe@safetymadesimple.com