Liquid propane is cryogenic. Contact with cryogenic liquid can cause burns to the skin and eyes.
Long sleeves are also preferred.
Follow these steps when changing propane cylinders.
1. Close the valve on the cylinder.
2. Run the engine until it stops. This ensures that the connection hose is empty.
3. Shut off the engine and open the connecting nut and inspect valves for leaks.
4. Disconnect the holding straps and remove the empty cylinder.
5. Replace the full cylinder in the proper position.
6. Connect the holding straps and tighten the connection.
7. Open the valve on the cylinder slowly and check for leaks.
8. Start the engine and resume operation.
Propane forklift cylinders may be stored horizontally or vertically as long as the safety relief valve is above the liquid level inside the cylinder.
This allows pressure inside the cylinder to vent safely (i.e. temperature increase.)
When mounting forklift cylinders to the forklift, make sure the pressure relief valve is located in the 12 o'clock position to allow pressure to vent safely.
Aligning the locating pin ensures proper alignment.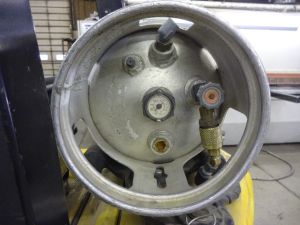 Source: Joe Mlynek is president of Progressive Safety Services LLC, Gates Mills, OH: joe.mlynek@progressivesafety.us, and content creation expert for Safety Made Simple, Inc., Olathe, KS; joe@safetymadesimple.com