Some may work around flammable liquids, gases, vapors, combustible dust, or live energized conductors.
Whenever working in environments with these types of hazards, remember to choose the right clothing.
Flammable Clothing Materials
The following clothing materials, whether by themselves or blended, are considered flammable:
Materials such as nylon and polyester burn slowly and melt causing molten residue. Acetate burns rapidly and is difficult to remove when melted on to another surface (i.e. skin). Avoid wearing clothing with these types of materials, where potential for fires, explosions, and arc flash exists.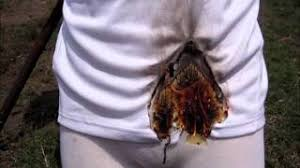 Synthetic clothing on fire.


Cotton Clothing
One hundred percent cotton garments offer better protection than synthetic clothing or cotton and synthetic blends. However, cotton fabric can ignite and will continue to burn if exposed to an ignition source. This can result in serious burns.
Flame-Resistant (FR) Clothing
Flame-resistant refers to ability of a material to self-extinguish upon removal from an ignition source. The primary purpose of FR clothing is to resist ignition. If flammable clothing is ignited by an arc flash, flash fire, molten metal, etc., the clothing fire will last longer than the initial hazard and typically will burn the victim over a much larger surface area.
FR clothing limits burn injury to the surface area directly impacted by he hazards. FR clothing also insulates the wearer from the thermal hazard, further reducing the possibility of second and third-degree burns.
Reference: Saner, Mark. Flammable Materials You Should Never Wear on the Job.
Retrieved from: http://bit.ly/2SZvequ

Source: Joe Mlynek is president of Progressive Safety Services LLC, Gates Mills, OH: joe.mlynek@progressivesafety.us, and content creation expert for Safety Made Simple, Inc., Olathe, KS; joe@safetymadesimple.com